Auto Prestige Car Accessories and Performance Parts

Short Description
Auto Prestige Offers Premium Car Accessories and Performance Parts in Australia
Description
Auto Prestige is one of the best websites where buyers can get top quality performance car parts for popular vehicles like Toyota Hilux, Ford Ranger, Mitsubishi Triton, Mazda Bt-50, Isuzu D-Max, Nissan Navara, Holden Colorado, Volkswagen Amarok, other car models.
It is an Australian company but they ship parts to New Zealand as well. Even though they are fairly new in the market, the company has fast become popular by selling genuine car parts for the best prices.
The customer reviews and ratings of the website clearly shows that their customers ae happy, and are willing to go back for more. By visiting the website of the company, buyers can purchase any car accessories in matter of minutes.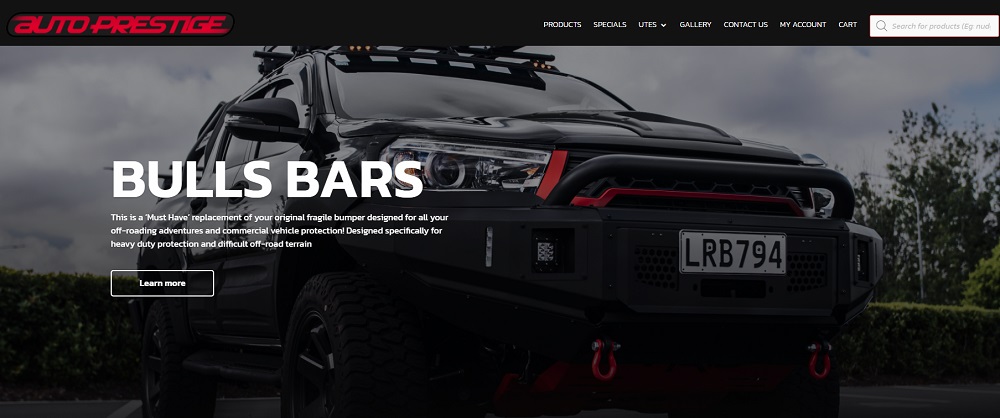 The hallmark of their services is prompt delivery services and proactive customer support. They also offer installation support but the cost will be borne by the customers. It saves their customers the time and hassles for finding the automobile technicians for their cars.
The website has simple user-interface that is easy to navigate. Users can search for parts by vehicles brands or by parts categories. Their product categories include side steps, grilles, fender flares, roll bars, nudge bars and bull bars, towing and hitches, weather shields, lighting fixtures, trims & cladding, bonnet guards, snorkel kits, boot liners, suspension & lift kits, bonnet scoops, roof racks, sbody kits, and many other car parts and accessories.
The website has another cool feature that makes it easy for the buyers to find the right kind of performance parts they are looking for. When the mouse moves over a particular part of the vehicle image, it will flash the name of that part, where the users can click and visit the sales page. For example, when someone hovers the mouse over the fender flares of the vehicle, it will flash the name, and the users can click on it to visit the products page.
It is a good feature for users who are not too savvy about the vehicle parts. They can easily get to know about what it is called, and then explore the website to find the right ones that suit their personalized requirements.
The company is known for providing top-quality vehicle accessories for highly competitive prices, which is why it has become a number 1 choice for vehicle enthusiasts who love to keep adding new accessories and parts to vehicles. These parts help in improving various aspects of their vehicles like safety, performance, and looks.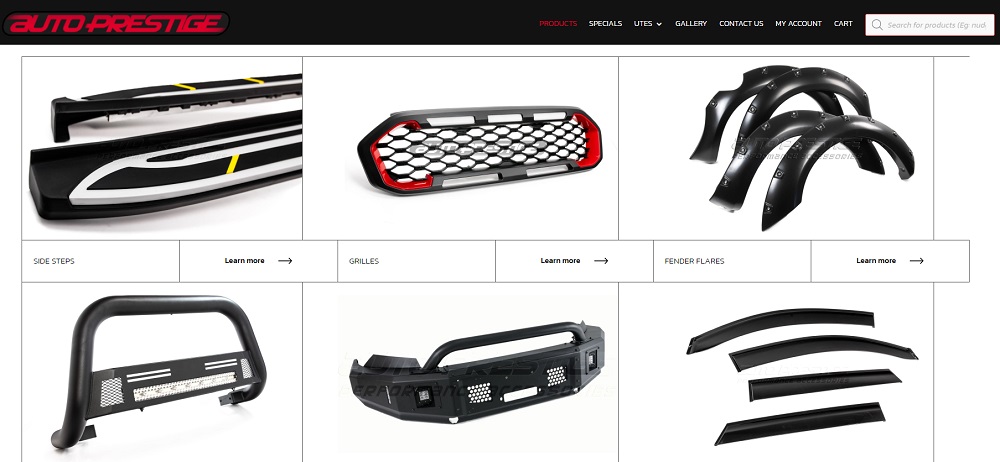 Users will need to register for a free account before making purchases. They can then login to their account for keeping track of their purchases and deliveries.
Another main reason why car owners love to shop on Auto Prestige website is because the company keeps coming up with special offers and discount deals on various performance parts and accessories. Users can visit their 'Current Specials' page to check out these deals. They are guaranteed to get unbeatable deals on some of the select parts.
Auto Prestige website has an extensive inventory with most parts being available at all times. Most of their visitors get the exact parts and accessories they are looking for, and they very rarely have to go back disappointed. In any case, they can write to the customer support for help with finding the right parts for their custom requirements.
Contact AutoPrestige
Unit 7/15 Pinter Dr, Southport QLD 4214
CALL BEFORE VISITING.
Mon — Fri: 9AM — 5PM
+61 452 113 232
sales@autoprestige.com.au