Jasmy Aims to Empower Companies with an Easy-to-Use and Ready-to-Implement IoT Platform
Explaining Jasmy in simple language 
Jasmy is an innovative platform that aims to revolutionize the Internet of Things (IoT) by providing a decentralized and democratized approach to data management. In simple terms, it offers individuals and companies a secure and efficient way to control and utilize IoT data.
The Internet of Things encompasses all interconnected devices, from wearables and cars to large aircraft, constantly generating data that enriches our lives. However, this data can be insecure and vulnerable to breaches due to the centralized nature of many existing IoT systems.
Jasmy addresses these concerns by providing a platform where data is decentralized, meaning it is not controlled by a single authority but distributed among users. This allows individuals to have more control over their data, including who can access it, how it is used, and how it is stored.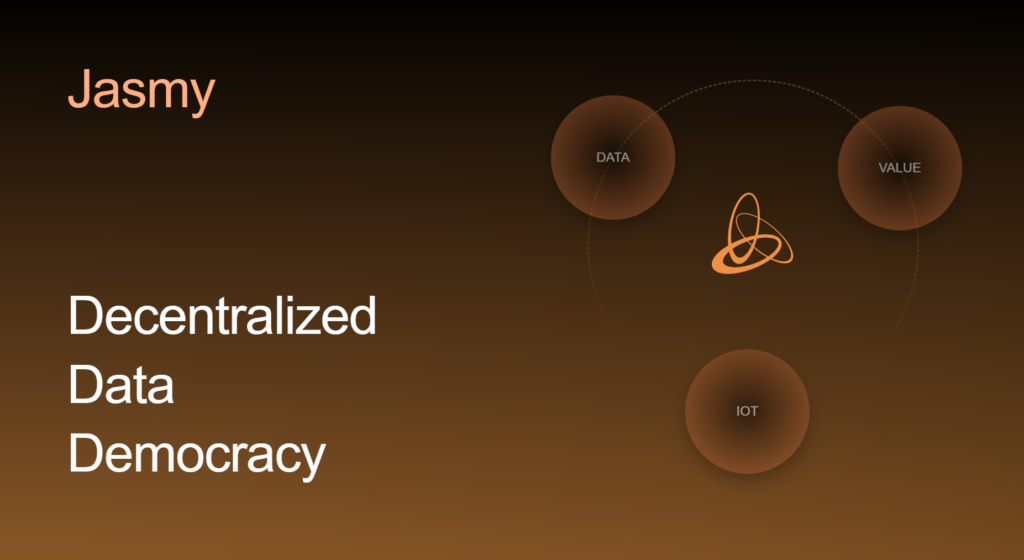 Jasmy's Personal Data Locker (PDL)
At the core of Jasmy's platform is the Personal Data Locker (PDL), a secure storage space for individuals' data. With the PDL, users can manage their data just like a wallet or a safe deposit box. This ensures that their information cannot be tampered with or stolen, and they have complete visibility and control over its usage.
Jasmy's Secure Knowledge Communicator (SKC)
For companies and organizations, Jasmy provides the Secure Knowledge Communicator (SKC), a service that allows controlled access to personal data when necessary. Companies can access and use personal data with the permission of the individual, and the SKC ensures that the data usage is tracked and can be accepted or denied by the user.
Jasmy Smart Guardian (SG)
Jasmy also offers the Smart Guardian (SG), which enables easy and secure registration of IoT devices on the platform. It ensures that only the owner of the devices can utilize them within the network, enhancing security and privacy.
Empowering Individuals and Fostering Innovation in the IoT Ecosystem
By decentralizing data control and empowering individuals, Jasmy fosters a more democratic and secure IoT ecosystem. It encourages innovation by allowing businesses, organizations, and individuals to utilize the data generated by IoT devices while respecting privacy and data ownership.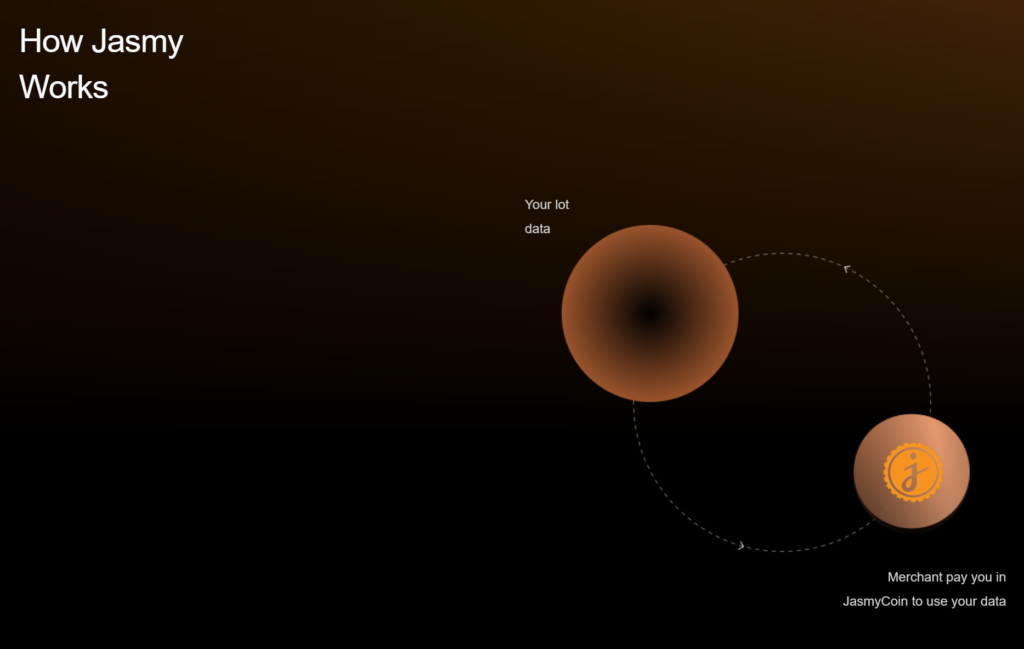 Comprehensive Solutions for Simplifying the IoT Landscape
In addition, Jasmy provides solutions for data management, a reward system for data producers, payment services, and even a secure PC for enterprise security. Its goal is to simplify the IoT landscape, making data more accessible, secure, and convenient for everyone involved.
Dynamic Team Driving Jasmy's IoT Revolution
Meet the dedicated team behind Jasmy, working tirelessly to revolutionize the IoT ecosystem:
Kunitake Ando
Representative Director Mr. Ando, the 7th president of Sony Corporation, has a remarkable track record in launching successful products like VAIO and Xperia smartphones. He brings his expertise in creating innovative ecosystems and currently serves as the Chairman of The University of Nagano in Japan.
Kazumasa Sato
President & COO With a background in marketing and branding at Sony, Mr. Sato has deep involvement in the IT network business. He played a crucial role as the Representative Director of Sony Style, shaping the company's direction.
Hiroshi Harada 
CFO Mr. Harada, a certified CPA, brings extensive experience in accounting, finance, and tax from his successful career at KPMG. He now spearheads the development of the Jasmy token ecosystem, marketing strategies, and listings.
Tadashi Morita
Senior Strategist & CSO With a rich engineering background, Mr. Morita has contributed significantly to Sony Corporation, developing various technologies and holding numerous patents. He has a keen understanding of security trends and played a pivotal role in Sony's top management. He joined Jasmy Cooperation as a senior strategist in 2020.
Takashi Hagiwara
Board Director & Head of Software Development As the former President of Sony Digital Network Applications and Deputy Head of VAIO & Mobile Business Group, Mr. Hagiwara played a key role in driving Sony's success. Since 2020, he has taken charge of software development at Jasmy, leading the team to deliver cutting-edge solutions.
Sheng Guo
CIO & Enterprise Architect With a diverse background in high-profile IT projects across aviation, telecom, and the public sector, Mr. Guo brings invaluable expertise to Jasmy. His experience includes working on advanced air traffic management systems, climate and oceans support programs, and fiber optic network rollouts.
Hidehiko Kakinuma 
Executive Officer Mr. Kakinuma's career spans from Sumitomo Mitsui Banking Corporation to Sony Corporation, where he played a crucial role in establishing Sony Bank Inc. and developing marketing strategies. With his extensive experience, he joined Jasmy in February 2022, contributing to its growth and success.
Together, this talented team drives the vision and mission of Jasmy, fueling innovation, security, and democratization within the IoT landscape.
Conclusion
In a world where data has become the new currency, Jasmy emerges as a pioneering platform, promoting the concept of Decentralized Data Democracy. By harnessing the power of blockchain and IoT technology, Jasmy offers a tokenized infrastructure that empowers individuals and businesses alike to use data safely, securely, and on their terms.
With a strong commitment to data democratization, Jasmy enables users to take control of their data, determining who has access to it and how it is utilized. This decentralized approach ensures that individuals retain ownership and privacy over their valuable information, while still allowing businesses and organizations to leverage it for innovation and development.
Jasmy's vision goes beyond simply providing a platform. It aims to create an environment where companies can easily integrate and implement IoT projects, taking advantage of the platform's user-friendly and ready-to-use features. By simplifying the IoT landscape and making data more accessible, Jasmy paves the way for a future that is secure, convenient, and inclusive for all stakeholders involved.
As the "Japan's Bitcoin," Jasmy symbolizes the fusion of blockchain technology and IoT, driving the democratization of data. Through this innovative approach, Jasmy strives to revolutionize the way data is managed, ensuring that individuals have the power to control their own information and contribute to a more democratic and secure IoT ecosystem.
With its commitment to Decentralized Data Democracy, Jasmy sets the stage for a new era where data ownership and privacy are paramount. By embracing this platform, individuals and businesses can participate in a transformative movement that not only unlocks the potential of IoT but also prioritizes individual rights and freedoms in the digital age.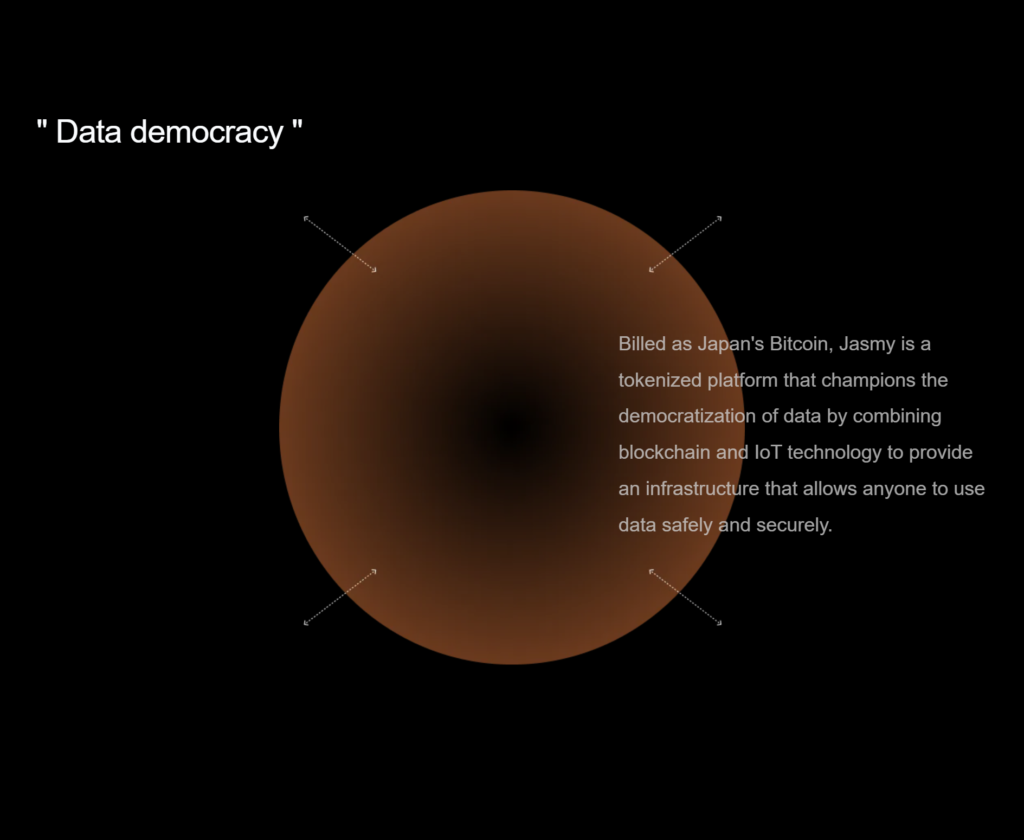 References
Disclaimer
The information provided in this article is for general informational purposes only and should not be considered as financial advice. It is essential to conduct your own research (DYOR) and seek professional advice before making any financial decisions.
While we strive to ensure the accuracy and reliability of the information presented, we make no representations or warranties of any kind, express or implied, about the completeness, accuracy, suitability, or availability of the information contained in this article. Any reliance you place on such information is strictly at your own risk.
We do not endorse or recommend any specific products, services, or platforms mentioned in this article. The inclusion of external links does not signify our endorsement of the content or views expressed therein, as we have no control over the nature and availability of those sites.
We are not liable for any losses or damages, including but not limited to financial loss, arising from the use of or reliance on the information provided in this article. It is important to make your own informed decisions and consider your own financial situation and risk tolerance.
Please note that cryptocurrency and blockchain-related investments are subject to high market volatility and risks. It is important to exercise caution and understand the potential risks before engaging in any investment activities.