Seoul, the vibrant and technologically advanced capital of South Korea, is gearing up to host one of Asia's most highly anticipated events in the realm of digital innovation – Seoul Meta Week. From June 26 to June 30, 2023, industry leaders, experts, and enthusiasts will converge in this bustling city to explore the latest trends and advancements in NFTs, Metaverse, Web 3.0, and blockchain technology.
Seoul, renowned for its seamless blend of ancient traditions and cutting-edge modernity, stands as a global powerhouse in the digital asset market. The city's towering skyscrapers, alongside centuries-old palaces and pagodas, serve as a visual representation of the fascinating mix of old and new that Seoul encapsulates.
As the digital landscape continues to evolve at a rapid pace, Seoul Meta Week stands at the forefront of innovation, offering a platform for thought leaders, visionaries, and industry pioneers to exchange insights, showcase groundbreaking technologies, and discuss strategies for the future. With a focus on NFTs, Metaverse, Web 3.0, and blockchain, the festival aims to shape the trajectory of these emerging technologies and explore their potential applications in various industries.
Seoul Meta Week features a week-long program filled with conferences, exhibitions, workshops, and networking opportunities. Attendees will have the chance to engage in thought-provoking discussions, learn from experts in the field, witness groundbreaking presentations, and forge valuable connections with top industry players. With a diverse range of topics, including Web 3.0, Metaverse expansion, NFT ecosystem, and ethical considerations, Seoul Meta Week offers a comprehensive and immersive experience for all participants.
Beyond the conference halls and exhibition spaces, Seoul itself provides a vibrant backdrop for the event. Participants will have the opportunity to explore the city's rich cultural heritage, indulge in its culinary delights, and experience the pulsating energy of its streets. From traditional palaces to trendy neighborhoods, Seoul offers a unique blend of tradition and modernity that is sure to leave a lasting impression on attendees.
SMW (Seoul Meta Week) Main Conference: Metacon 2023
The centerpiece of Seoul Meta Week is the SMW Main Conference, known as Metacon 2023. This conference, held on June 29 and June 30 at the COEX Auditorium, marks the third edition of Metacon. The event has garnered recognition for successfully hosting the largest domestic metaverse event in 2021. Metacon 2023 aims to showcase the latest developments and applications within the metaverse, providing a unique platform to foster innovative business models and discuss strategies for penetrating emerging markets.
Agenda: Exploring the Future of Technology
The agenda of Metacon 2023 covers a wide range of topics crucial to the future of the industry. Participants can expect discussions and presentations on the following key areas:
Web 3.0
Blockchain Interoperability

Web 3.0 Community Development

Web 3.0 User Experience
Metaverse
Metaverse Platform Expansion

Virtual & Real Worlds Integration

Emergence of New Use Cases
Digital Ecosystem
NFT Ecosystem Expansion

Decentralized Finance (DeFi) Advancement

Cryptocurrency Prospects
Ethics, Laws, and Policies
Era of Big Data: A Cybersecurity Dilemma

NFT Trends & Regulations

AI and Robotics Ethics
Connect, Learn, and Shape the Future
Seoul Meta Week 2023 is set to be a remarkable event, offering an exciting and informative experience for technology enthusiasts and industry professionals interested in the future of technology and its impact on society. As Seoul continues to lead the way in blockchain technologies, this festival serves as a dynamic platform for collaboration, knowledge sharing, and networking among like-minded individuals.
Attendees of Seoul Meta Week will have the unique opportunity to connect with industry experts, learn from their insights, and actively contribute to shaping the future of NFTs, Metaverse, and Web 3.0. The festival cultivates an environment that fosters innovation, creativity, and exploration of new possibilities, empowering attendees to play an active role in shaping the future of the industry.
Featured Speakers: Visionaries and Innovators
Seoul Meta Week proudly presents an exceptional lineup of featured speakers who are visionaries and innovators driving the industry forward. The conference brings together a diverse range of speakers, including both established industry leaders and emerging projects, ensuring a comprehensive and dynamic experience for attendees.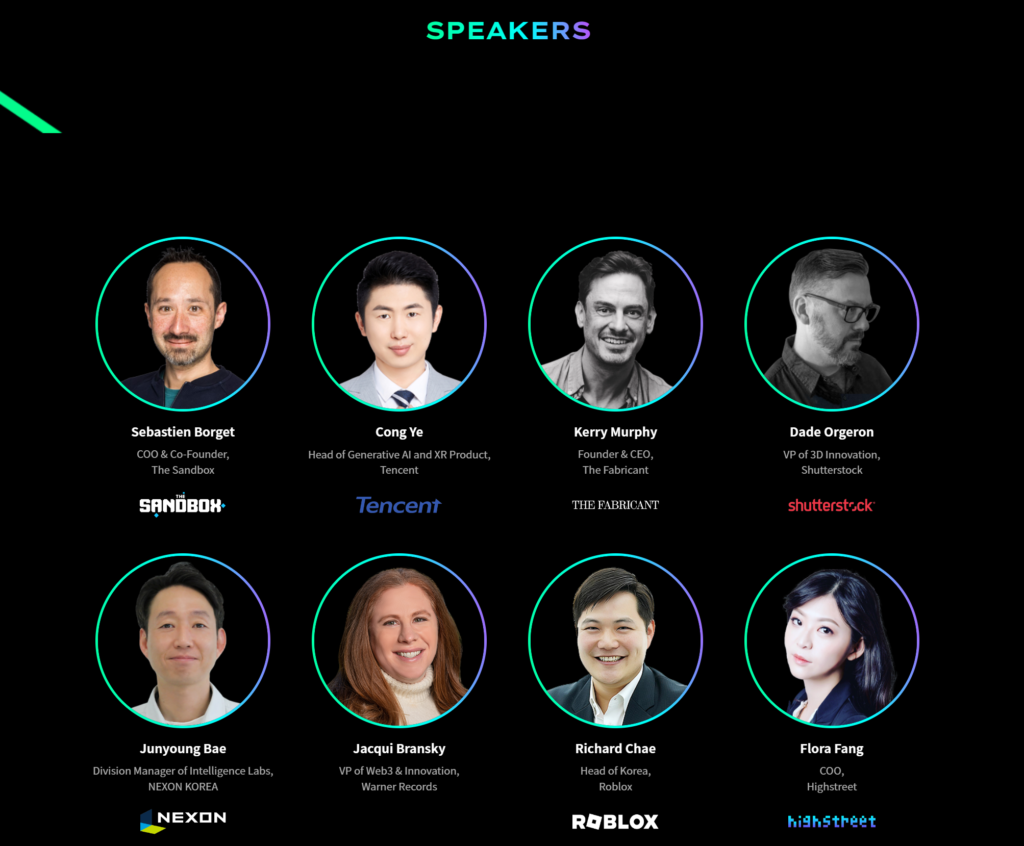 Among the notable speakers and exciting new projects gracing the stage and stand booths at Seoul Meta Week 2023, attendees can look forward to industry luminaries such as:
Sebastien Borget, COO & Co-Founder of The Sandbox

Cong Ye, Head of Generative AI and XR Product at Tencent

Kerry Murphy, Founder & CEO of The Fabricant

Dade Orgeron, VP of 3D Innovation at Shutterstock

Junyoung Bae, Division Manager of Intelligence Labs at NEXON KOREA

Jacqui Bransky, VP of Web3 & Innovation at Warner Records

Richard Chae, Head of Korea at Roblox

Augustin Gohil, CEO of MMAI

Iñaki Moreno Girona, Web3 BD Lead at Google Cloud

Mingu Kim, Unity Director of Web3 Lab at LG U+

Mia Van, Blockchain and Digital Assets Lead at Mastercard

Ikhwan Cho, Vice President of Metaverse Development at SK Telecom 

Natalia Modenova, Founder & COO, DRESSX
These esteemed speakers will share their insights, experiences, and visions for the future, providing valuable perspectives on the latest trends and advancements in NFTs, Metaverse, Web 3.0, and blockchain technology. Their presence at Seoul Meta Week ensures that attendees will gain a comprehensive understanding of the industry landscape and the exciting possibilities that lie ahead.
Seoul Meta Week not only features established web3 and blockchain companies but also provides a platform for brand new players in the market to showcase their groundbreaking developments in the web3 industry. This inclusive approach ensures that attendees will witness the unveiling of innovative projects and firsthand the visionary ideas that will shape the future of the digital asset landscape.
Seoul Meta Week 2023 is a testament to the city's commitment to innovation, collaboration, and knowledge exchange. It offers a unique opportunity for attendees to connect, learn, and actively contribute to shaping the future of NFTs, Metaverse, Web 3.0, and blockchain technology. By bringing together visionaries, industry leaders, and emerging projects, Seoul Meta Week serves as a catalyst for the advancement of the digital asset industry and the exploration of its immense potential.
Embrace the Vibrant Atmosphere of Seoul
Seoul, the bustling business and cultural hub of South Korea, is hosting the highly anticipated Seoul Meta Week from June 26 to June 30, 2023. This festival brings together industry leaders to explore the latest trends in Web 3.0, Metaverse, NFTs, and blockchain technology. Known for its dynamic blend of ancient traditions and modern innovations, Seoul is at the forefront of the global digital asset market.
While attending Seoul Meta Week, participants will have the chance to immerse themselves in the vibrant atmosphere of Seoul. The city's rich cultural heritage, modern architecture, and bustling streets offer a unique backdrop for this groundbreaking event. From visiting ancient palaces and temples to exploring trendy neighborhoods and indulging in delicious Korean cuisine, Seoul has something to offer for everyone.
During your visit to Seoul, you can explore the city's captivating sights and attractions. Immerse yourself in its rich cultural heritage by visiting iconic landmarks like Gyeongbokgung Palace and Changdeokgung Palace. Experience the modern side of Seoul in districts like Gangnam, known for its skyscrapers and entertainment hubs. Indulge in the vibrant street food scene and explore parks such as Namsan Park for a serene retreat.
Seoul offers a diverse culinary scene, from authentic Korean barbecue to mouthwatering street food. Don't miss the chance to savor the flavors of Korean cuisine.
Whether you're attending Seoul Meta Week or simply visiting the city, Seoul's blend of tradition and innovation will leave you captivated and inspired. Discover the dynamic spirit of Seoul, where ancient traditions meet cutting-edge innovations.
Seoul Meta Week 2023 is an event that should not be missed by anyone interested in the future of NFTs, Metaverse, and Web 3.0. From June 26 to June 30, 2023, Seoul, South Korea, will be the hub of knowledge sharing, networking, and innovation, as industry leaders, experts, and enthusiasts come together for a week-long festival.
As Asia's most renowned NFT, Metaverse, and Web 3.0 event, Seoul Meta Week offers a unique opportunity to witness the cutting-edge advancements in digital assets. With a lineup of visionaries, innovators, and exciting projects, attendees will be at the forefront of shaping the future of the industry.
Make sure to mark your calendars and stay tuned for updates on the event schedule, ticket information, and featured speakers. Seoul Meta Week 2023 will be a catalyst for transformative changes in the digital asset market and will pave the way for groundbreaking advancements in technology.
Join the industry leaders in this vibrant city as we unlock the boundless potential of digital assets and forge new pathways toward a technologically advanced future. Save the dates for Seoul Meta Week 2023, where innovation meets collaboration, and the future of NFTs, Metaverse, Web 3.0, and blockchain technology unfolds before your eyes.