MMAI PureWallet: The Groundbreaking Solution for Offline Crypto Transactions
As cryptocurrencies gain widespread acceptance and use, the need for secure and reliable crypto wallets has become increasingly important worldwide. However, the current crypto market extends beyond areas with internet connectivity, which has presented a challenge for many users. As a result, leading companies are now searching for a solution to provide secure and immediate crypto transactions in places without internet connectivity.
In response to this need, the MMAI Pure Wallet has emerged as a groundbreaking solution. It is a highly innovative and cutting-edge wallet that offers unique features not found in other cryptocurrency wallets. 
Specifically, it is the first wallet of its kind to provide offline cold wallet capabilities without requiring additional hardware. 
Additionally, it is the only wallet that enables peer-to-peer transactions without an internet connection. 
As a result, the MMAI Pure-Wallet is a game-changing tool that is available for instant cryptocurrency transactions in places without internet access, as well as a secure way to store your crypto in an offline digital vault.
Combining Three Types of Crypto Wallets in One
PureWallet combines the benefits of three different types of wallets in one: 
Web wallets

Cold storage wallets 

Wallet for offline cryptocurrency payments
Each of these types of wallets brings unique benefits to the table, and together they create a powerful and versatile tool for managing cryptocurrencies.
Incorporating the functionality of hardware, web, and offline wallets, PureWallet offers users a versatile tool for managing their cryptocurrency holdings. It provides the security benefits of hardware wallets, the convenience and accessibility of web wallets, and the offline transaction capabilities of offline wallets, all in one easy-to-use package.
Web Wallets: Easy Accessibility, Anywhere 
A web wallet is a type of cryptocurrency wallet that allows users to make regular payments, transactions, or trading activities from anywhere with an internet connection. It provides convenience for users who need to access their funds on the go, to buy, swap, or send tokens.
Cold Storage for Secure Cryptocurrencies Storage
Cold storage wallets offer a secure solution for storing and managing cryptocurrencies offline. These compact devices provide users with peace of mind by protecting their digital assets from cyberattacks and unauthorized access.
By keeping private keys and sensitive data offline, hardware wallets significantly reduce the risk of online threats, such as hacking attempts and malware infections. The advanced encryption and tamper-proof technology embedded in hardware wallets create a secure environment that is highly resistant to physical and software attacks.
Using cold storage option, users can confidently protect their cryptocurrencies and enjoy the benefits of offline security. These devices provide a convenient and reliable means of safeguarding digital assets while retaining full control and ownership. Whether cryptocurrency enthusiast or a long-term investor, hardware wallets offer a robust solution for securing your valuable digital wealth.
Offline Wallet: Enabling Instant and Secure Crypto Payments Without Internet Connection
An offline wallet is a type of cryptocurrency wallet that allows users to perform transactions without an internet connection. 
This makes it possible for users to complete transactions from one user to another either via Bluetooth connection if the users are in close proximity to each other or by sending to the correct cryptocurrency address if they are in different locations. 
This wallet ensures secure and instant transfer of cryptocurrency without requiring internet access.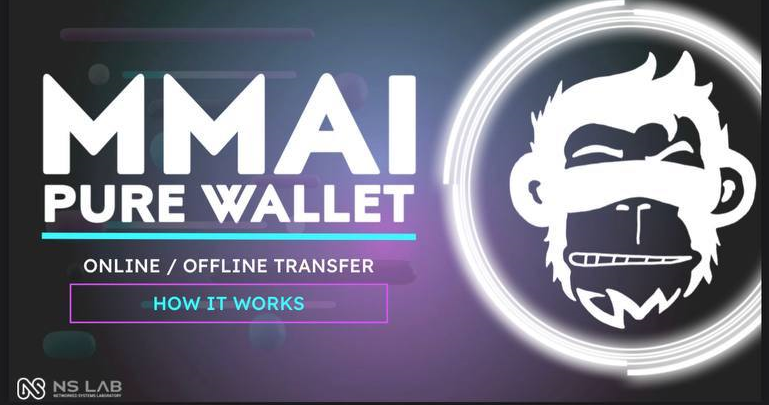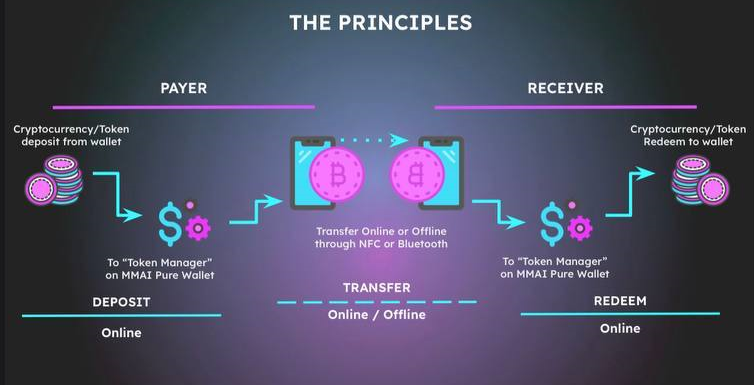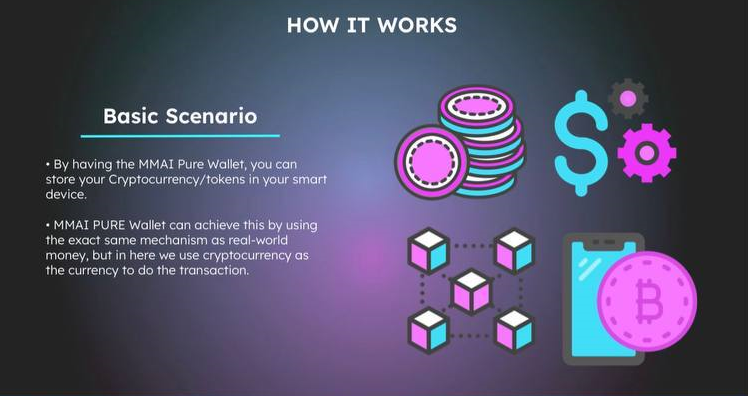 MMAI PureWallet's Powerful Features and User-Friendly Design
MMAI PureWallet is designed to provide easy usability and convenience while ensuring the safety of your digital assets. Explore below the wallet's features and how they make managing cryptocurrencies more accessible and secure for users around the world.
MMAI PureWallet Mobile App
MMAI PureWallet offers a mobile app for both iOS (currently in the final Apple approval phase) and Android devices, as well as plans to release a browser extension in the future. The app provides users with all the same features as the web-based platform, including the ability to send and receive cryptocurrencies, view transaction history, and manage their digital assets. The mobile app also features an intuitive and user-friendly interface, making it easy for users to manage their funds on the go.
User-Friendly Interface
One of the key benefits of the MMAI PureWallet is its user-friendly interface. The wallet is designed to be intuitive and easy to use, even for those who are new to cryptocurrency. The interface is clean and streamlined, with all the necessary functions easily accessible from a single dashboard. Additionally, the wallet will be available in multiple languages, making it accessible to users from different parts of the world.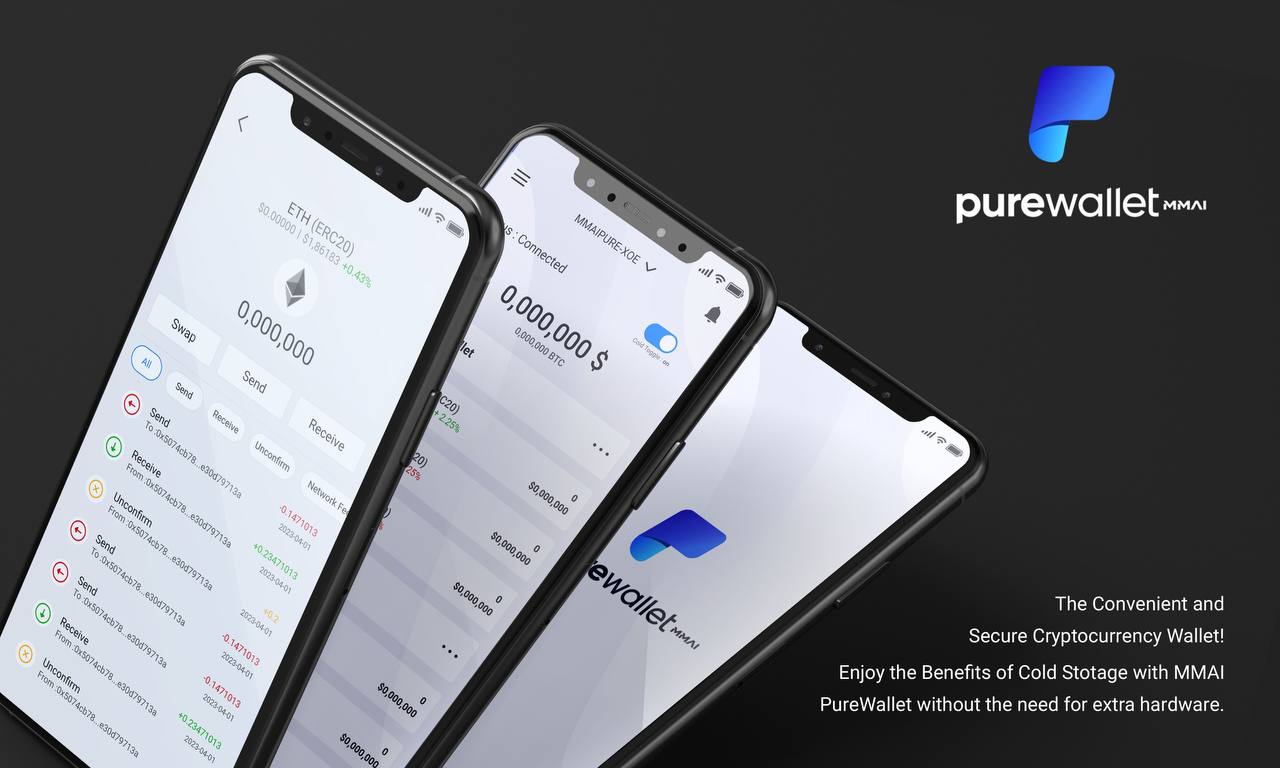 Support for Multiple Cryptocurrencies
The MMAI PureWallet supports multiple cryptocurrencies, making it a versatile tool for managing a diverse portfolio of digital assets. The wallet currently supports Ethereum and its network tokens, USDT, USDC, with plans to add more in the future. Meaning users can store, send, and receive different types of cryptocurrencies using a single wallet, making it a convenient solution for managing digital assets.
Buy Crypto with Fiat Now
This feature allows users to purchase cryptocurrencies directly from their wallet using fiat currency, such as USD, EUR, or GBP. By eliminating the need to use a separate exchange or platform to make a purchase, this feature offers a convenient and streamlined way to add to your cryptocurrency holdings. 
This feature makes MMAI PureWallet a truly all-in-one tool for managing your cryptocurrency portfolio, with the ability to both store and purchase cryptocurrencies in one secure and easy-to-use platform.
Roadmap for Future Development
MMAI has a roadmap for future development of the PureWallet, with plans to introduce new features and capabilities in the coming months and years. Some of the upcoming features include market place, support for additional cryptocurrencies, integration with decentralized finance (DeFi) protocols, and enhanced security features. 
These developments are aimed at making the MMAI PureWallet the most comprehensive and secure crypto wallet on the market.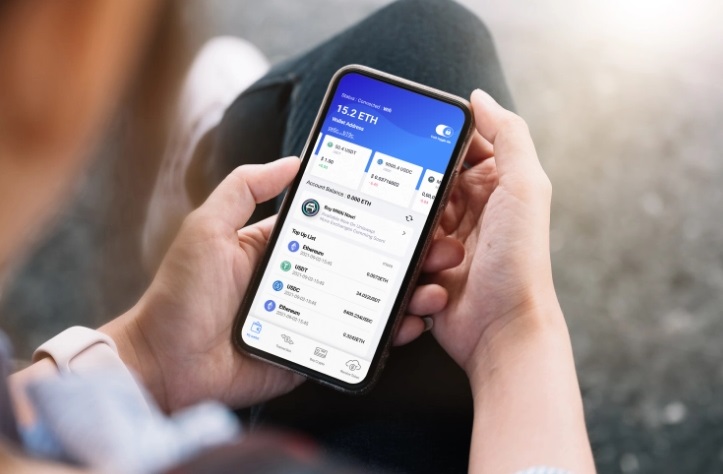 Use Case for Pure Wallet Global Adoption
MMAI is bringing the benefits of blockchain technology to areas worldwide that struggle with internet connectivity and have limited access to traditional online payment systems. With its unique combination of features, the MMAI PureWallet offers a perfect solution for managing cryptocurrencies offline. Users in areas with limited internet connectivity can now benefit from secure transactions and easy management of their cryptocurrency holdings. 
With MMAI's innovative and cutting-edge solution, the reach of cryptocurrency adoption and offline transaction capabilities can be expanded globally, bringing a new level of financial freedom to users everywhere. One of the most prominent examples of this is Nigeria, where the use of PureWallet has demonstrated the potential for offline transaction capabilities and the wide-reaching potential of cryptocurrency adoption.
The Nigerian people, particularly those in rural areas, often struggle with internet connectivity. Yet, they have embraced the technology, with PureWallet becoming a vital tool for paying bills, sending funds, resolving invoices, and more.  With the partnership of MMAI and the Imo state government, the potential of the PureWallet is being expanded to a broader audience, particularly underserved populations who have been left behind in the traditional financial system.
The use of PureWallet in Nigeria can demonstrated the potential for offline transaction capabilities and the wide-reaching potential of cryptocurrency adoption in markets where internet connectivity is a challenge. MMAI is committed to making the benefits of cryptocurrency accessible to everyone, regardless of their location or access to the internet. 
By partnering with governments and organizations around the world, MMAI is helping to drive the global adoption of cryptocurrencies, while at the same time providing a secure and convenient solution for those who need it most. 
"The use of PureWallet in Nigeria is just the beginning of what promises to be a global movement toward a more accessible and secure cryptocurrency future."
Delivering More than just a Wallet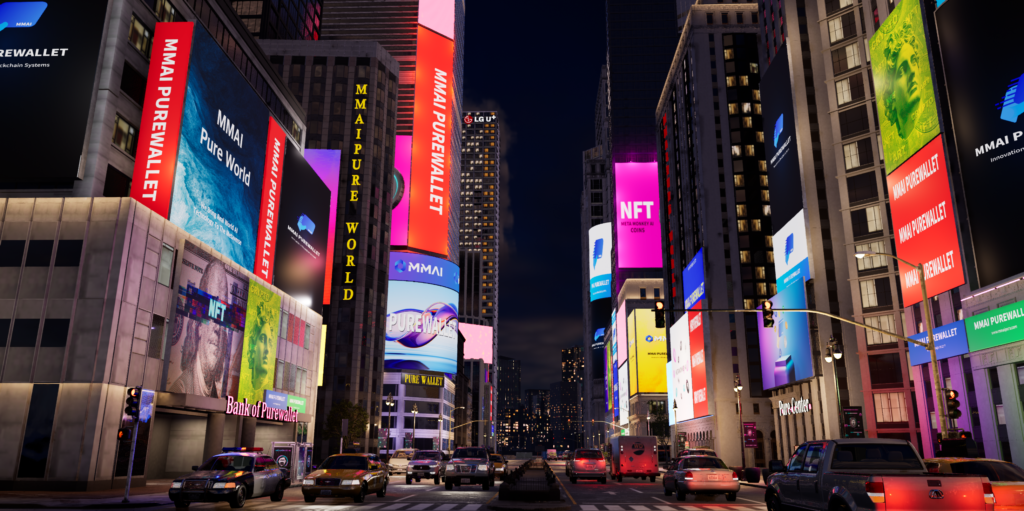 The Imo Digital Economy Agenda (IDEA) 2022-2026 is a plan created by the Imo state government in Nigeria to develop and advance the digital economy within the state. The plan is anchored on six pillars that outline key areas of focus for achieving this goal:
Digital literacy and skill up
This pillar is focused on educating and training people to become digitally literate and acquire new digital skills that are in demand in the economy.
Solid infrastructure
This pillar involves the development and improvement of digital infrastructure such as internet connectivity and other necessary resources to support a digital economy.
Service infrastructure
This pillar is focused on developing and improving digital services that are necessary for businesses and individuals to thrive in a digital economy.
Advocacy
This pillar involves creating awareness and promoting the benefits of a digital economy to the public, as well as advocating for policies that support its growth and development.
Monitoring
This pillar involves the tracking and analysis of data on the progress and impact of the digital economy, and making informed decisions based on this data.
Evaluation
This pillar is focused on evaluating the effectiveness of policies and strategies implemented in the development of the digital economy, and making necessary adjustments to ensure success. 
MMAI and NSLab, who are professionals in Metaverse development, are poised to partner with the Imo state government to make the state the first to provide a cutting-edge Metaverse service at the Nekede Zoo in Owerri, Nigeria.
The PureWallet and associated blockchain solutions can be used to enhance revenue goals, e-tourism, and human capacity development. 
With a promise to merge the philosophies of the TOP (Technology, Opportunity, and People), the initiative is set to expand the possibilities of cryptocurrency adoption and offline transaction capabilities globally.
To wrap up
MMAI PureWallet is an innovative and cutting-edge tool for managing cryptocurrencies. Its unique combination of features offers users a versatile tool for managing their cryptocurrency holdings, making it a popular option for individuals looking to securely manage their cryptocurrency holdings.
With its ability to cater to users who require the features and functions of a digital wallet without the constant need for an internet connection, the MMAI PureWallet is poised to change the way we think about crypto transactions. The future of crypto wallets has never been more exciting, and with the potential of the MMAI PureWallet, the possibilities are endless.
Disclaimer
The information provided in this article is for educational and informational purposes only. It is not intended to be a recommendation or endorsement of any particular product or service, and should not be construed as investment, financial, or legal advice. Cryptocurrency investments are inherently risky, and users should conduct their own research and seek the advice of a qualified professional before making any investment decisions. The author and publisher of this article make no representations or warranties as to the accuracy, completeness, or timeliness of the information contained herein.