This update provides a brief overview of MMAI's upcoming developments and upgrades that are set to roll out in mid-April 2023.
The update will showcase the latest advancements in MMAI's ecosystem, including PureChain, PureWallet, and PureWorld, and their integration with other utilities, providing users with an enhanced DeFi experience. Additionally, the upcoming release of virtual properties assigned to Key to The City NFTs will allow users to mint their exclusive properties, further expanding the MMAI ecosystem.
This update underlines MMAI's commitment to innovation and creating a seamless and integrated DeFi ecosystem for its users.
MMAI at the Independent National Convention
Augustin Gohil, co-founder and CEO of MMAI, recently participated as a guest speaker at the Independent National Convention (INC), where he shared his insights on blockchain technology, specifically on decentralized finance and blockchain governance solutions. The convention provided an excellent opportunity for Mr. Gohil to showcase MMAI's capabilities and the potential it holds for the future of the industry.
During his presentation, Mr. Gohil emphasized the importance of empowering individuals through blockchain technology. "We feel like the individual people are extremely important," he said. He explained that MMAI's technology is geared towards providing incremental changes to the current centralized financial system, which is over 100 years old and controlled by centralized governments. Mr. Gohil highlighted the need for innovation in the DeFi space, such as the crypto wallet that can do transactions without internet connectivity.
Mr. Gohil also emphasized the importance of making blockchain technology more accessible and easy-to-use for the general public. He called for more coordination and leadership in the industry to simplify the technology and make it more user-friendly. "The blockchain technology should be a simple technology more accessible and easy-to-use and operate for all people," he said.
Furthermore, Mr. Gohil's long-term goal aligns with the principles of decentralized finance (DeFi), which is a movement pioneered by MMAI and other blockchain visionaries. DeFi seeks to create a more open and accessible financial system that is not controlled by centralized authorities by allowing ordinary people who may not have access to traditional banking services to be in control of their finances.
This approach also aligns with MMAI's broader mission of empowering individuals through blockchain technology. By enabling individuals to become their own "banks," MMAI and other blockchain visionaries are giving them greater control over their finances and the ability to participate more fully in the global economy.
After the Independent National Convention (INC), Augustin Gohil returned to South Korea and resumed working with the MMAI team to continue the company's mission of transforming the industry. MMAI has been making steady progress toward its goals and has been actively engaging with its community to gather feedback and suggestions for further improvements.
Latest Developments for MMAI's Utilities
PureChain Update
MMAI's PureChain has been in development for some time, and the team has been working diligently to bring the platform to fruition. In recent months, several exciting developments have demonstrated the progress of PureChain's development.
One of the most notable updates is the completion of PureChain's whitepapers and roadmap, which will soon be published to the public for acknowledgment. The whitepaper will provide more details about the platform's features and capabilities, as well as its technical specifications. 
This will enable users and developers to better understand how PureChain works and how it can be used to manage digital assets.
MMAI has also been actively engaging with the community to gather feedback and suggestions for the platform. The team has been conducting surveys and hosting community events to better understand the needs and preferences of users. This feedback has been incorporated into the development of PureChain, ensuring that the platform meets the needs of its users.
In addition to these updates, the MMAI team has been working on integrating PureChain with its other utilities. This will enable users to access a wider range of digital assets and services, making it easier to manage their digital portfolios and access DeFi.
PureWallet is a long-awaited MMAI's development designed to provide users with a secure and efficient way to manage and securely store their digital assets. It will enable users to store, manage and trade digital assets in a secure and decentralized manner, reducing the risks associated with centralized asset management.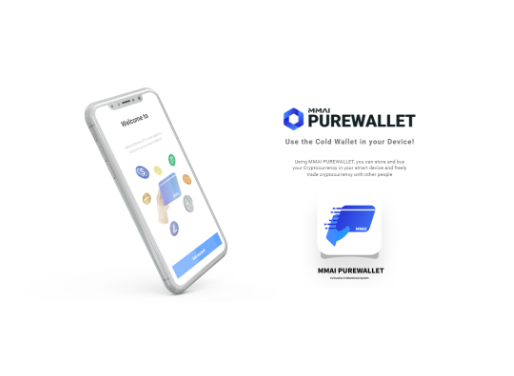 The PureWallet is in the final stage of development and is about to go live. However, before it is released to the public, MMAI is planning a test drive with a selected group of users who have nominated themselves as testers.
The test drive will enable MMAI to gather feedback and make any necessary improvements before releasing the wallet to the public. This approach demonstrates MMAI's commitment to providing users with a high-quality product that meets their needs and preferences. In addition, the selected users will be able to test the wallet's features and functionalities, providing valuable insights that will help MMAI refine the platform further.
MMAI WEB3 Third Shooter Gaming Update
MMAI's game lab is continuously improving and developing its games, and the latest addition to its gaming ecosystem is the WEB3 Third Shooter Gaming platform, which is currently under development. This new platform is expected to attract more interest among players and engage a wider audience with its new stages, maps, and scenarios.
The company is also exploring the integration of play-to-earn scenarios and mining capabilities while playing the game. However, the integration of mining will only be possible after the release of the blockchain, as this will be linked to the PureChain. This will provide a new avenue for users to earn rewards and incentivize them to engage more actively with the game. By creating an immersive and rewarding gaming experience, MMAI aims to build a strong and engaged community around its gaming ecosystem.
MMAI's Metaverse, PureWorld, is an exciting development that enables users to explore a virtual world and interact with other users in a decentralized manner. The latest addition to PureWorld is a future casino and pokies machine lounge bar, where Pure People and visitors can enjoy socializing or spending time on their own and try their luck with a little bit of "gambling."
The Pure World casino is designed to provide users with a realistic and immersive gaming experience. Building structures, ambient lighting, table games, slot machines, and lounging areas have been added to create a fun and engaging social environment. The casino is just one example of the many interactive and engaging experiences that users can enjoy in PureWorld.
In addition to the casino, MMAI's gamelab is constantly working to improve and develop the platform by building new stages, maps, and a marketplace. This ensures that users always have access to fresh and exciting content, making PureWorld a fun and engaging virtual world to explore.
Key to The City NFT and Exclusive Property Reveal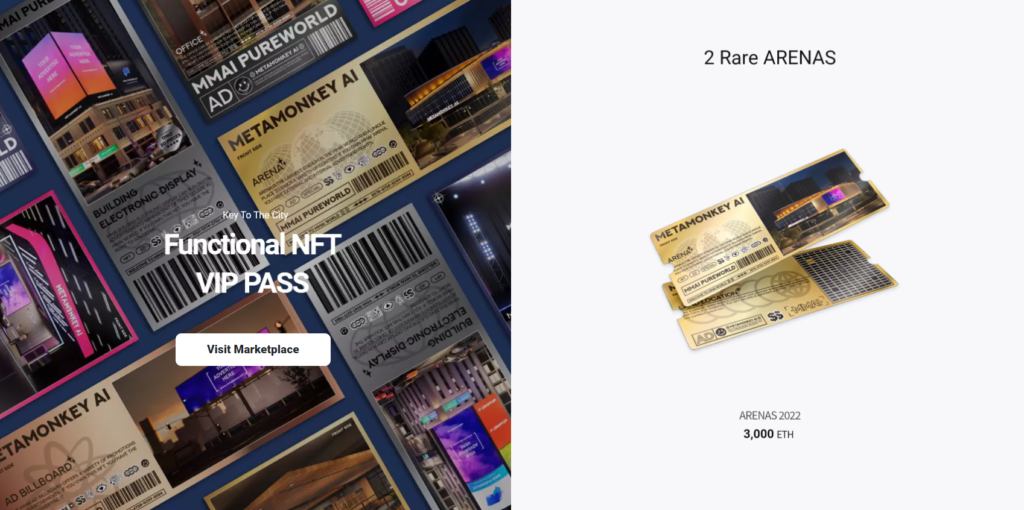 One of the most important updates from MMAI is the reveal of virtual properties. The owners of Key to The City NFTs will be able to mint their exclusive properties assigned to each Key to The City NFT. This will happen on April 28, 2023. MMAI community is arranging a special reveal party to make this more interactive, most likely through a Twitter Spaces or YouTube live stream.
The reveal of virtual properties is an exciting development that demonstrates the potential of blockchain technology to revolutionize the way we own and manage digital assets. It also shows MMAI's commitment to engaging with its community and creating interactive experiences that users can not just enjoy but an open potential for earning an income in the metaverse.
Conclusion
MMAI continues to be at the forefront of blockchain technology, and its commitment to innovation and creating a seamless and integrated DeFi ecosystem is evident in its latest developments. With the upcoming release of PureChain, PureWallet, and other exciting updates, MMAI is poised to revolutionize the way we manage digital assets and participate in the global economy.
Disclaimer
The information provided in this article is for educational and informational purposes only and should not be construed as financial or investment advice. Investing in cryptocurrencies, blockchain technology, and DeFi assets is highly speculative and comes with significant risks. It is essential to conduct your own research and seek the advice of a professional financial advisor before making any investment decisions. The author and publisher of this article assume no responsibility for any investment losses or damages incurred as a result of following this information.